Our most comprehensive suite of perks will make you smile
Treat yourself to our premium banking services, plus unlimited DimePerks savings.
Why DimePerks?
Our premier checking account
Free Dime ATM withdrawals and preferred rates
Compare Accounts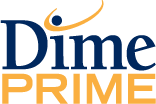 DimePrime personal checking lets you tap into our premium tier of banking services:
Anywhere banking tools for Online & Mobile Banking, bill pay, debit/ATM and eStatements
Free withdrawals at any ATM and we'll refund other banks' fees, up to $10 each month
Special bank services, including: discounts on loan fees, bonus rates on CDs, savings overdraft protection fee not applicable, free paper statements, and free annual order of checks
In addition, you'll enjoy our comprehensive suite of DimePerks savings and benefits:
Discounts & savings with over 300,000 national, regional and local merchants that are sent right to your phone – save money on shopping, dining, travel and more
Additional savings on pharmacy, vision and hearing service providers
Cell phone protection – receive up to $400 per claim ($800 per year) if your cell phone is broken or stolen * **
Identity theft protection – Includes payment card protection, $2,500 in personal identity protection and identity theft aid *
Roadside assistance – available 24/7 and free to use, up to $80 in service charges ($320 per year)
$2,500 extended warranty coverage for any items bought using Dime Debit Card on an account that has Perks. This benefit also adds 1 year of warranty coverage to any item that is offered a specific warranty period purchased using the Dime Debit Card and participating in a Perks product. * ***
Rental vehicle coverage up to $50,000 ***
Lost or damaged luggage coverage up to $3,000 ***
$10,000 travel accident death insurance to provides peace of mind to your family *
We want to make sure you receive our special treatment!
At Dime Bank, we strive to be the best community bank in Connecticut and Rhode Island by making sure our customers get the special treatment we are known for providing.
DimePerks checking accounts are part of this treatment. We've custom-designed them to deliver the banking services you need and, in addition, provide special discounts & benefits that will help you save money, protect assets, and discover local merchants.
What is Dime Perks?
Play Video
Terms:
* Insurance products are not a deposit — not FDIC insured — not insured by any federal government or agency — not guaranteed by the bank.
** Must be paid monthly with your DimePrime account. May be subject to additional terms and conditions.
*** Must be paid in its entirety with your DimePrime account. May be subject to additional terms and conditions.
DimePrime: Available to personal depositors only. $1,000 minimum deposit to open account, with minimum combined average monthly balance of $15,000 or outstanding consumer and residential loan balances of $150,000 to avoid monthly maintenance fees. Monthly maintenance fee of $20.00 if combined average monthly balance requirement not met. Accounts that qualify for combined average monthly balance include consumer checking and savings accounts. Check printing fees vary. Customers will be auto-enrolled in DimePerks benefits. Data and text messaging fees may apply.
For Identify Theft Protection: May be subject to additional terms and conditions.
Please reference BaZing Benefit Supplemental Guide for account details.