Pay on the go with your Dime Bank MasterCard and a Digital Wallet!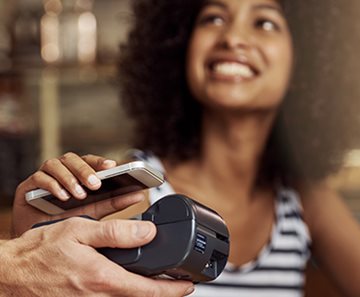 Enroll in a Digital Wallet:
Setting up your Digital Wallet
First, you will need a compatible device.
Download or locate your digital wallet application of choice.
Click 'add credit or debit card'.
You may be asked to verify your card by calling the bank at 860.859.4300.
Congratulations, your card has been added to your device!
Look for the Apple Pay, Google Pay, or Samsung Pay icons at participating merchants to start using!
Digital Wallets
Play Video
Digital Wallets are accepted at merchants all across the world!
Look for the Apple, Google, and Samsung Pay logos at your favorite businesses.
Where to use
In Store
To pay, just tap and go without taking out your card.
Where to use
Online
Check out is just a few clicks away.
Where to use
In App
Make purchases in your favorite apps without leaving your screen.
Frequently Asked Questions:
Everything you need to know about your digital wallet
With a screen reader, navigating the following accordions is best with arrows only.
A digital wallet is a system that securely stores users' payment information and passwords for numerous payment methods and websites. By using a digital wallet, users can complete purchases easily and quickly without having to use their physical card.
Digital Wallets use a tokenization system that improves the security of card information. Each time you use your phone to make a purchase a one-time number is generated and provided to the merchant. This number will not be used again, and even if the data is breached anywhere in the process, it can't be used to defraud your account.
Dime Bank Debit, Business Debit, and HSA MasterCards. Please note your Dime Bank VISA cards are not accepted in digital wallet applications. Make sure to activate your new card to start using!
No. When you add a card to your digital wallet, it will be assigned a digital account number. Your digital wallet whether it's Apple Pay, Google Pay, or Samsung Pay will use this digital account number when you make a purchase.
If you get a new card, you will need to go into your digital wallet, delete your existing card and add your new card.
There may be extra security steps during the registration process. You will be asked to call Dime Bank so we can verify your card. Then look for a message within your digital wallet letting you know your card is ready.
With Google Pay and Samsung Pay, you authorize each purchase with your PIN. With Apple Pay, you authorize each purchase with Touch ID or your passcode. These features help prevent other people from using your Digital Wallet compatible device. If your device is stolen, you will have to cancel your physical Dime Bank debit card by calling 860-859-4300. This will cause any Digital Wallet transaction using the Virtual Card Number associated with your physical debit card to be blocked. Upon receiving a new device, you must reestablish your digital wallet.
Learn more about Digital Wallets!
For more information about the digital wallet of your choice, please visit: